On Sunday, May 1st I received all my life at the Beyonce Formation Tour. My beau bought the tickets for me as a Valentine's gift and the anticipation to May 1st began.
Let me start off with this...I had the pleasure of seeing some FABULOUS outfits at this concert along with even better jewelry. I'm so serious when I say men have some of the best neck pieces. I found myself wanting to snatch some necklaces off, but remembered I'm not made for jail. Along with the good also came the bad. There were definitely people there with outfits not for their body type. I'm all for self-love of one's body, but please make sure you don't buy things too small for yourself. No reason as to why you should be pulling your one piece out of your butt after every step you make. Along with steps, some people failed to realize they were not Beyonce as they came strutting to the Georgia Dome in their six inch heels. Before and after I saw women's heels leaning to the side as women took each step. Their heels were asking the Good Lord not to let this be their final day in the shoe world I'm pretty sure.
I was curious as to why DJ Khaled was the opening act five minute prior to to his performance, but soon I was reminded of the benefits of the Hip Hop Kirk Franklin opening. Rick Ross came out first
no ankle monitor visible to the eye.
2 Chainz emerged next (I was hoping he was Future), T.I. was allowed to take the day off of daddy duty, Ludacris a la pick in small fro, The-Dream, and whoever the man is that sings the song about a Spanish woman talking to him and him replying in Japanese #SheSaidHolaComoEsta #KeepForeignLanguageInSchools. DJ Khaled then proceeded to hit his best Obama impersonation with a drop of the mic. #KhaledOut #WeDaBest
I then proceed to wait for what seemed like an eternity in Bey Hive time. She offered us two Ivy Park ads,
but I'm not sure about buying any of that because House of Dereon was not the best quality
. After about a hour the lights went out, I heard the swarming of bees, and all that was left was the illuminating light of the mysterious white cube. The stage proceeded to be filled with smoke and that cube. The only thing going through my mind was was where she was gonna come from. I'm pretty sure I started hyperventilating about it. Right then the beat to Formation dropped and emerged Beyonce in her American Horror Story: Coven glory. Y'all can't tell me Beyonce isn't the new Supreme! Me and the thousands of other people hollered out "I SLAY!" numerous times at her demand.
The hat disappeared and the hair shaking began. This woman must not get headaches because my head would be in pain as must as she shakes that weave. She did her classic Run The World minus all the dropping it down low. She performed some of the my favorites from Lemonade like Hold Up, Don't Hurt Yourself (her guitarist or bass player did an amazing solo prior to this song being played), All Night Long, and Sorry (plenty of middle fingers up telling boys bye). I anticipated the line of "Better call Becky with the good hair" and searched the crowd to see what some Beckys would do. I wasn't disappointed as a blonde girl probably in her 20's proceeded to twist her hair and then flip it. The anger of a 1,000 Bernadettes from Waiting To Exhale filled me in that moment.
She at some point gave us this speech on loving yourself even when you've been hurt prior to performing Me, Myself, and I. All these emotions filled me as I closed my eyes and sang along because I definitely blasted some music from her during my break-ups (ummm...Why Don't You Love circa 2010 the day after my first boyfriend broke up with). When she performed Sorry I became more fascinated with the back-up dancer with the short hair blonde hair,
Saidah Naiobi
. Seriously she made me want to go chop my hair off and dye it platinum blonde. I think I found myself looking for her in every dance after that. Oh yeah, did anybody else get Huey Newton vibes when Beyonce had that chair come out as she sang Ring The Alarm?
At some point the romance and odes to love/baby making began to play as she belted out my favorite from her Beyonce album Rocket with a little Untitled by D'Angelo, 1+1, Blow, Naughty Girl with Nasty Girl mixed in by Vanity 6, and Drunk In Love (the screen even gave the effect of being intoxicated). I finally had the chance to witness her do that chair flip in Partition but missed it by a millisecond trying to tell my beau something. I was ticked off to say the least. This is also the part of the show when I started to realize that Beyonce's butt isn't as big as the media makes it. From the back it's curvy, but from the side its not that plump looking. She's just got a tight butt that sits up high I think.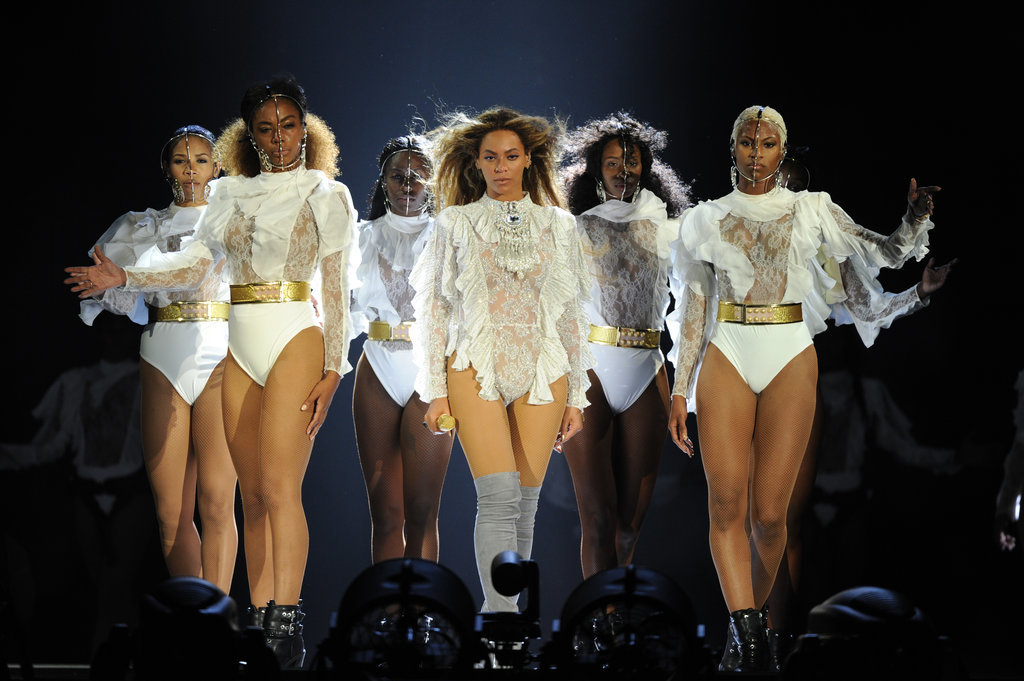 The dancer I'm talking about is on the right. Serving all types of #Goddess.
In her final set she emerged in true superhero form with a cape blowing in the man made wind and no shoes.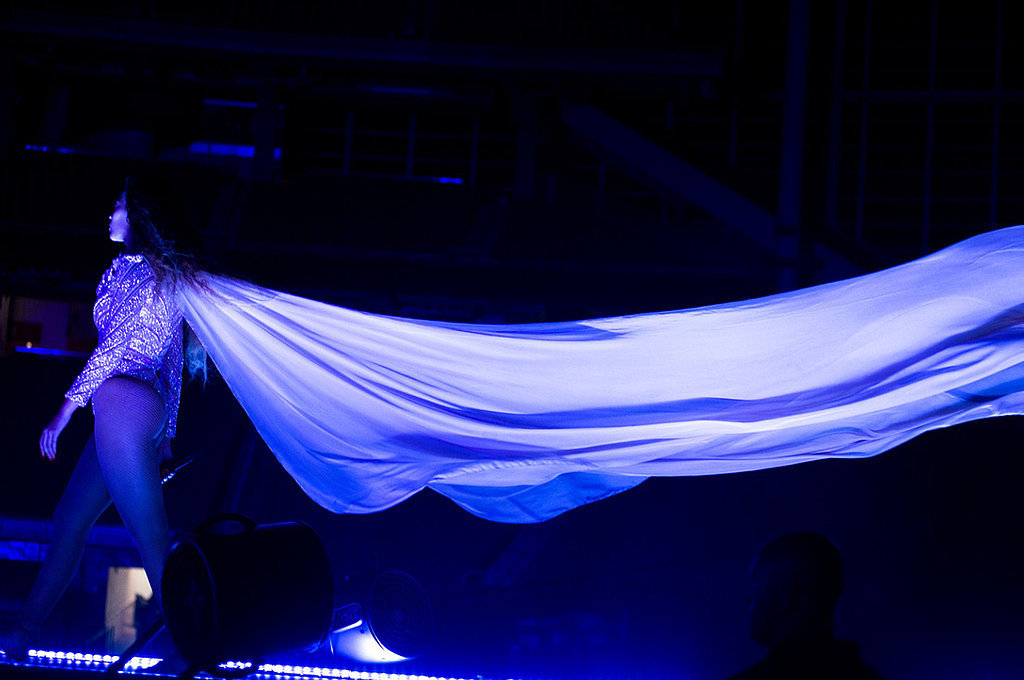 Super Beyonce to the rescue!!!
The stage was filled with water and the dancers began the ritual Rain Dance to Freedom as Beyonce's showed she was was smart and purchased bundles of Wet & Wavy for the special occasion. I wonder how many women with fresh weaves were upset about getting splashed with a little water or if they took it all in because the water had been blessed by Beyonce's knees and feet. She performed Halo but that is one song I've never cared about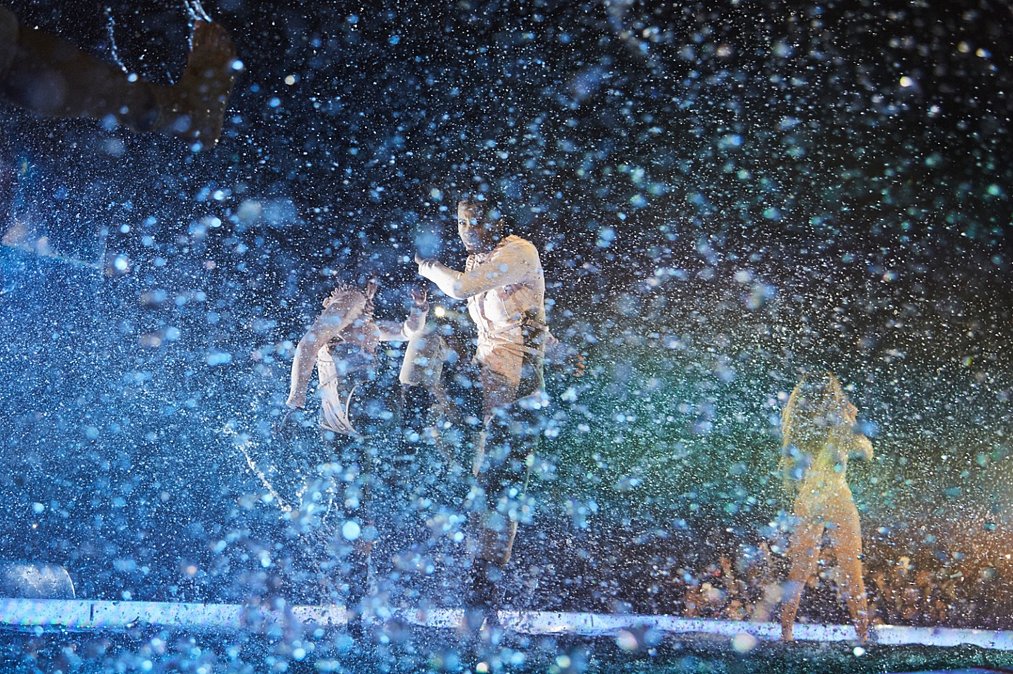 Overall the show was fabulous and a great to start to my week seeing how it's Teacher Appreciation Week and three weeks of school left. There are not many singers out here who can sing with 100% effort and dance at the same time like Beyonce. I look forward to seeing her again in the near future hopefully.
All photos with came from either Beyonce's Facebook or
PopSugar
because (1) I wasn't that close and (2) my iPhone doesn't produce such high quality photos.